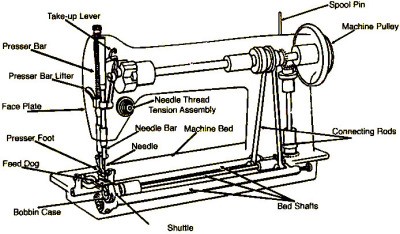 This is the sort of sewing machine I learned on at the age of eleven. Nothing fancy, a late 50's, early 60's model that my mother had. Made of black cast iron with shiny stainless steel accessories.
At fourteen I encountered a sewing machine similar to this in Home Ec class. I was bored and annoyed with the first weeks of instruction on how to operate it. Also with the first projects where we hemmed a handkerchief and, wow!, made a pot holder. I wanted to jump right in and create a dress with a matching cape and slouchy handbag. Miss Maring found me to be a difficult student. Which, admittedly, I was. Being required to plod along through the basics with the rest of the class was the seamstress equivalent to being forced to tolerate addition and subtraction flashcards when you can already express polynomial functions. Miss Maring got married that fall and was then Mrs. Somethingorother. She left teaching at the end of the semester. I may have had something to do with her decision.
In honor of her recent purchase of a sewing machine, one of Andrea's friends posted this graphic to her Facebook page. I found it hilarious and fully intend to adopt these terms. I am especially fond of uppydowny and flounce attachment.